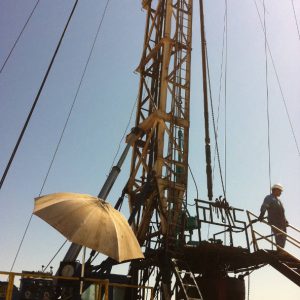 As temperatures increase and summer drags on, heat stress injuries and dehydration can become more common.
See also: post on cold weather illness
Heat stress prevention tips:
Stay physically fit and healthy
Acclimation to heat can take 5 to 7 days
Drink extra water the day before and every 20 minutes
Avoid caffeine and alcohol during work and the day before as they can dehydrate you
Rotate your work schedule and add a fourth man to provide extra breaks from heat
Add shade and breezy blowing air to cool off while working if possible
Prepare for the weather and learn the signals of heat stress before it hits
ADDITIONAL RISKS
On some worksites be prepared for the extra stress of wearing FRC coveralls or plastic "Tyvek" suits. These protective suits can block the ability of the body to sweat and extra rest needs to be planned.
In addition to temperature, increased humidity makes it harder for the body to react to heat. The "heat index" has been developed to account for the additional effect of humidity. Check the heat index chart put out by NOAA to determine the heat severity level expected to be encountered during the day.
NOAA Heat Index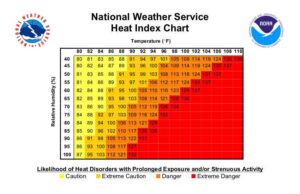 (http://www.weather.gov/media/unr/heatindex.pdf)
HEAT STROKE
Heat stroke is a medical emergency. Learn the signs of heat stroke and if you notice them in any of your fellow workers, notify your supervisor immediately. Heat stroke victims must be given immediate first aid and medical attention.
Symptoms include:
Hot skin with no sweat
Hallucinations and confusion
Body chills
Dizziness and slurred speech
Recommended courses: SafeLand San Antonio
Notice: Article is provided as is and for informational use only. Eagle Ford Training San Antonio, its owners, instructors, and affiliates hereto referred as the company shall have no liability for and you shall defend, indemnify and hold harmless from and against any claim loss demand, liability, obligation, and expense based upon any injury or damage, spill or pollution, product liability, or any other loss that may occur. The liability for the use of information is solely yours notwithstanding any act of error or omission by the company.