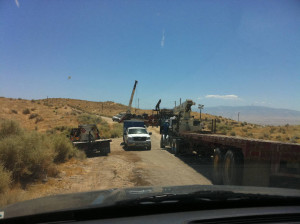 Driving from San Antonio to the rig is statistically the most dangerous position in the South Texas oil and gas industry. There are a few particular risks to driving in South Texas oilfields that are different from driving in urban San Antonio. The RigPass program covers some of these. Any training that can be done to reduce that risk is helpful, therefore, there is a driving module added to our South Texas SafeLand training.
PROTECTION
While you occasionally hear stories of the overzealous write-up of the South Texas worker who is not wearing a hard hat in a vehicle, this is not what we are talking about when we talk about protection for drivers and passengers in SafeLand training. The number one protection is a properly worn safety belt. In the event of a collision, there is no other variable that a driver can control more to reduce the risk of injury or fatality. Additionally, ensuring the condition of the vehicle is satisfactory is also important. A pre-trip checklist should include a walk-around inspection along with a check of the route being used. Proper vehicle maintenance programs also need to cover the items used in an emergency stop, such as brakes and suspension.
SOUTH TEXAS OILFIELD CONDITIONS
Drivers on oilfield roads not only need to attempt to anticipate unexpected hazards, but oilfield roads can also have a common set of hazards that the driver will be expected to encounter. In RigPass, it is taught that lease roads can be rough and narrow with potentially heavy truck traffic. Care must be taken to keep the speed low enough to navigate these hazards. SafeLand training teaches that when arriving at the wellsite it is important to back into the designated parking area so that drivers can exit quickly in an emergency. Parking too close to an oil well can expose the exhaust of the vehicle to flammable gas vapors. Also, it is critical not to park next to the rig or inside the rig anchors and driving within any guy wires should generally be avoided to reduce the risk of collision.
AWARENESS
Driving is known to be one of the most dangerous activities in the oil and gas industry. Two of the most common causes of collisions during driving are distraction and lack of visibility. One issue of current debate concerns the use of cellphones while driving. Many districts have started banning the use of cellphones while driving without the use of a hands-free device. In San Antonio or Austin, the use of a cell phone while driving without a hands-free device is now a ticket-able offense. Some oil and gas companies have gone farther and instated policies prohibiting the use of even hands-free devices during all working hours. We train during our SafeLand course that the laws and company policies must be followed and, additionally, the scientific studies actually show that the hands-free devices are no safer than just using a cell phone due to the distraction involved. Awareness of impending hazards is an important part of SafeLand training and even when cell phones are allowed while driving, we encourage workers not to use them due to the distraction they cause.
Recommended Training: SafeLand San Antonio
Notice: Article is provided as is and for informational use only. Eagle Ford Training San Antonio, its owners, instructors, and affiliates hereto referred as the company shall have no liability for and you shall defend, indemnify and hold harmless from and against any claim loss demand, liability, obligation, and expense based upon any injury or damage, spill or pollution, product liability, or any other loss that may occur. The liability for the use of information is solely yours notwithstanding any act of error or omission by the company.